An article on Martha Stewart's Living Blog puts the Campanelli sampler book in the "Must Read" category.

CLICK here for the full article.
In the September 4, 2013 issue of Martha Stewart's Living Blog, author Lindsey Mather writes, "We recently discovered A Sampling of Hunterdon County Needlework, a beautiful book on samplers and silk embroideries by Dan and Marty Campanelli, avid collectors of American needlework, for the Hunterdon County Historical Society in New Jersey. Inside, you'll get lost in the stories of young schoolgirls from the 1600s to 1800s and their intricate, thoughtful needlework–samplers are often the only existing memories of these women. More than half of the needlework in the book is featured for the first time, and there are some gems. Here are a few of our favorites…"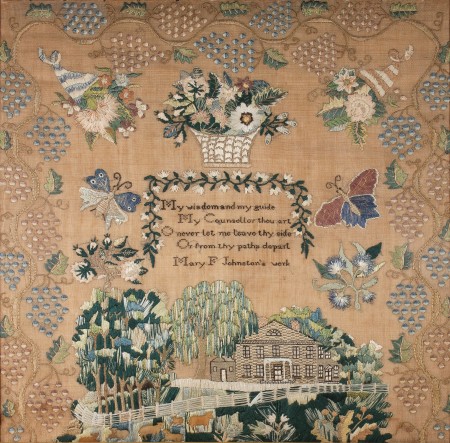 "This beautiful circa 1828 "Trenton landscape" sampler was stitched by Mary F. Johnston (1817-1894) of Trenton. Mary grew up in, and taught school out of, what is today the Old Barracks Museum in Trenton, New Jersey. Credit: Collection of the Old Barracks Museum. Photo by Marty Campanelli."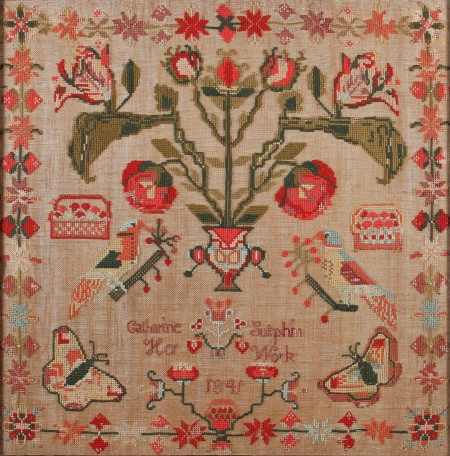 This exhuberant Berlin wool-work sampler was created in 1841 by Catharine Sutphin (1832-1876) of Delaware Township, Hunterdon County, New Jersey. Credit: Collection of Dan & Marty Campanelli. Photo by Marty Campanelli.
The Society received a grant in March from The Astle-Alpaugh Family Foundation* to pay for the printing of a full-color, 132-page book about Hunterdon County schoolgirl needlework.

The book is $25 per copy, with all proceeds to benefit the Society.  Click here for purchase information.