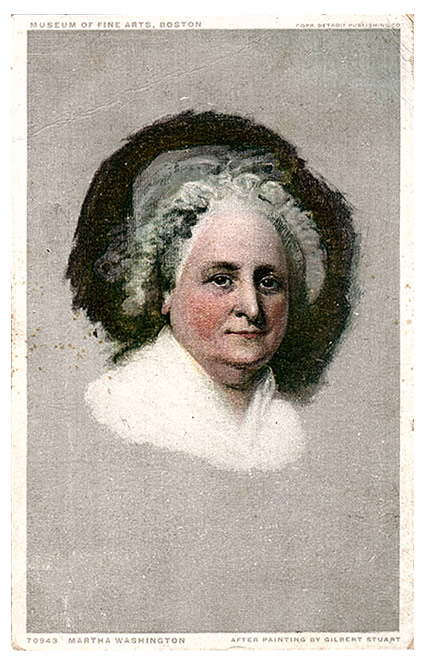 "Martha Dandridge Custis Washington was born at Chestnut Grove in New Kent County, Virginia, June 2, 1731. Her father, John Dandridge (1700/1701 — 1756), emigrated to Virginia from England with his older brother William when John was 13 or 14 years old. He settled in New Kent County and became county clerk in 1730, the year he married Martha's mother, Frances Jones (1710 — 1785) of York County.
Martha was the eldest of three brothers and five sisters, the youngest of whom was born when Martha was 25 and already had four children of her own. She married Colonel Daniel Parke Custis in 1750 and lived in his Pumunkey River mansion, White House. Custis managed the large New Kent County plantation of his father, Councillor John Custis, who lived at the brick house known as Custis Square in Williamsburg.
Martha and Daniel Custis had four children: Daniel, born in 1751; Frances, born in 1753; John (Jacky) born in 1755; and Martha (Patsy), born in 1756 or 1757. Daniel died at the age of three, and Frances died at four years of age. July 26, 1757, when Martha Custis was only 26 years old, her husband died suddenly.
Martha married Colonel George Washington (1732 — 1799) January 6, 1759. Washington had been commander of the First Virginia Regiment in the French and Indian War and had been elected a burgess representing Frederick County in 1758. He had acquired Mount Vernon by lease from the widow of his half-brother Lawrence in 1754. (He inherited the plantation upon her death in 1761.) Before his marriage, Washington had increased the size of Mount Vernon from the original one-and-one-half-story dwelling to a two-and-one-half story home. George and Martha Washington and her children Jacky and Patsy moved to Mount Vernon in April 1759.
Mount Vernon remained George and Martha's home until their respective deaths, although they spent much time elsewhere during the war and presidential years. June 19, 1773, Martha's teenage daughter Patsy died at Mount Vernon. The following year, Martha's son John Parke Custis married Eleanor Calvert at her home, Mount Airy, in Prince George County, Maryland. George Washington attended the wedding, but Martha was so grief-stricken over Patsy's death, she was unable to make the trip. John and Eleanor had five children before his death from "camp fever" (probably typhoid fever) November 5, 1781."
(Taken from Colonial Williamsburg. For the full story, CLICK here.)