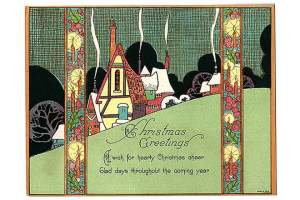 Much like trimming a tree, stringing lights up around the windows of a home, and watching the skaters at Rockefeller Center's ice rink, sending Christmas cards is a distinctly American holiday tradition. Although Christmas greeting cards originated in England in the mid-1800s, they were manufactured for the United States only about thirty years later and continued to rise in popularity. Since the turn of the twentieth century, the stationary industry has seen considerable profit from the sale of holiday cards. The tradition has become both a part of American culture and a reflection of various cultural shifts, tastes, and attitudes over time.
With the rise and pervasiveness of modern technology, from email to smartphones, America has seen a decline in the amount of Christmas cards purchased and sent over recent years. However, this longstanding tradition remains one of the few ways in which we continue to connect with one another beyond social media and other communicative mediums.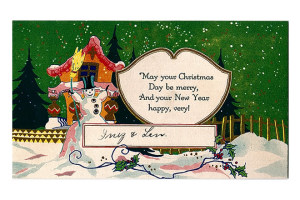 This Collection
The collection presented here includes 22 of the Christmas cards that our co-founder, Hazel J. Alpaugh (Astle), and her then husband, William Jacques, received during the holiday season of 1930. They were mailed or given by friends and family in most cases. Three (3) of the cards were sent from companies that Hazel and/or William presumably had done business with.
In 1930, as in any year, the cards reflected the style and sentiments of their time. This period rests in between the early 1900s, the time of the "penny Christmas postcard" and the start of the American greeting card industry, and the mid- to late 1930s, when cards became more complex, artful, and specific in sentiment. This collection, then, is special, because it bridges the gap between these two time periods. Among the cards, one can see a mix of one-sided, simpler postcards (16) and more intricate greeting cards (6), some sent in special envelopes with decorated insides. Eight (8) of the cards' envelopes have the USPS Christmas Seal on them, reading "Merry Christmas – 1930 – Health to All". Many of the cards indicate being "Made in [the] USA", with that text stamped on the front of a postcard or the inside or back of a folding greeting card. Only one card shows its publisher or source; no other card shows a maker or copyright.
| | | |
| --- | --- | --- |
| | | |
| | | |
| | | |
| | | |
| | | |
| | | |
| | | |
---
Sources: Greeting Card Association; Livaudais Christmas Collection; The Chicago Tribune (December 2010); The Astle-Alpaugh Family Showcase