WWII Through the Eyes of PFC John J. Rozborski
About This Feature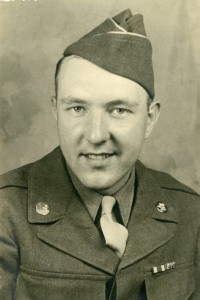 This month's featured Showcase comes with perfect timing, highlighting the experience of a local World War II veteran, John J. Rozborski, in time for both his 93rd birthday (May 31) and Memorial Day. Rozborski's experience as an Army Jeep driver in Europe at the tail end of the war is an interesting foil to that of Stephen Domovich, the Annandale veteran we interviewed this past fall; both men served at the same time and both landed on the beaches of Normandy in support of the D-Day invasion.
Yet there is something special about Rozborski's account of his service: most of the story is told through pictures as opposed to words. He carried a camera with him throughout his time in France, Belgium, and Germany. Recalling that he was told he could only bring along what he himself could carry on his back, he explained to us that he "just carried [his] camera…and captured what was interesting". "Interesting" is one word for it, but many others come to mind when viewing some of the photographs he took which offer us a hazy but uniquely personal glimpse into the service of one American soldier driving through Europe at the debris-laden conclusion of the European theatre.

About John J. Rozborski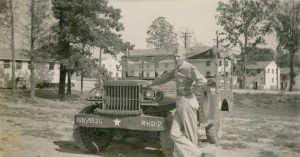 John was born on May 31, 1922 and raised on his family's farm on Croton-Quakertown Road in Franklin Township, New Jersey. He enlisted in December 1942, at age 20, as a private in the Branch Immaterial of the United States Army. John was trained in 1943 at both the Tennessee Maneuver and Fort Knox before shipping to Belfast, Ireland as a Jeep driver whose main responsibility was to shuttle greatly-needed supplies to various US companies.
His role was greatly needed at the very end of D-Day, when he landed at Normandy as the invasion had dwindled to a close. He slept on the beach the night following the attack and then drove forward into France in the morning. John supplied troops in Belgium and Germany throughout the last remaining year of the war in Europe; after the Battle of the Bulge, he followed orders to report to southern France but made stops along the way in places like Liege,
Belgium, where his photographs show the hauntingly quiet aftermath of the war against the backdrop of the European landscape. By the time John reached southern France to then ship out to the Pacific, word reached Europe that the war had ended and he instead was shipped home and returned to his family's farm, where he worked for the next many years before marrying his wife, Theresa, who passed away in 2008.