The Astle-Alpaugh Family Showcase is maintained by The Astle-Alpaugh Family Foundation and works in conjunction with local museums, historical groups and local private collectors to provide images and descriptions of items of visual and cultural interest to the public at large in the hope that it will provide an appetite to enjoy America's history and learn some of the country's lost historical secrets and lifestyles.
It's about TIME this month with a look at our exquisite clocks… a French mantle clock, most likely made between 1660 and 1700, is an original from the workshop of the masterful Parisian clockmaker Antoine Gaudron – CLICK here for a closeup look. We also have a Boulle clock which is a type of marquetry involving patterned inlays of alternating bronze and tortoiseshell, is a predominantly French style of decoration that originated in the 17th century with cabinetmaker André Charles Boulle – CLICK here for a closeup look. And finally, we have a really fun Ansonia Bobbing Doll Clock, manufactured by the Ansonia Clock Company – CLICK here for a closeup look.
Our January 2017 Showcase features press photographs and ephemera from the infamous Lindbergh trial. The collection is shared with us by David Reid, a neighbor of ours and the grandson of William McCrea, warden of the Hunterdon County Jail during the time of the trial. The family's refreshing perspective on this historic event – and collection of trial ephemera – can be seen here.
Some new items for the glass collection show a Durand Vase, Red Cameo Vase, Columbia Exhibition Egg and 1893 World's Fair Bowl.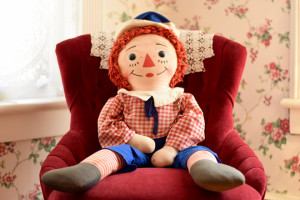 Part of the Alpaugh family's collection are dolls. The three categories are Raggedy Andy, Bisque-Head Dolls and China Dolls. Click on the categories to see the collection!
Some new items for the glass collection show a rare Tiffany vase, quilted Coralene vase, pink coralene vase and pictured above, a cranberry-colored melon bowl. See the entire collection here!
The Astle-Alpaugh Family Foundation celebrated Christmas with a collection of 1950 Christmas Cards. Take a look here!
And we have a collection of rare clocks; take a look at the:
If you missed last month's videos, check out:
Send us your feedback or leave a message on Youtube. Let us know what you'd like to see more of.
Save
Save
Save
Save
Save